Educational Access Cable Channel
Crestwood District Cable Broadcasts
Crestwood School District maintains cable broadcasting equipment for the purpose of informing the citizens of the Crestwood District concerning current events.
Information can be found daily on:
WOW Channel 15

Comcast Channel 19
The latest Crestwood School Board Meetings are broadcast on Tuesdays and Thursdays at 2:00 p.m. and 7:00 p.m. Arrangements can be made to purchase a DVD copy of the meeting by calling 313-274-6320. DVD cost is $3.00.
Other programs may be broadcast at specified times and dates. Notices will appear on the cable channel for these events.
Requests for informational slides to be displayed between meeting broadcasts need to be accompanied by a request form as well as an information slide file in the form of a PowerPoint slide or jpg.
Click here to download the form that contains cable slide submission details. Form and file must be submitted to district or building administration for approval before being forwarded for broadcast. Form and file may be submitted electronically.
Building Administration personnel approves slides involving events or information concerning current students and/or building facilities.

The Superintendent's offices approves informational slides for community/non-student events.
Tips for constructing an effective slide
Microsoft PowerPoint works as an excellent starting point to construct a cable slide. The final format for broadcast is a jpeg file which can be made with the Save As feature in PowerPoint.
Slides with dark backgrounds and light text broadcast better

Bold thick text is best

To test a slide's effectiveness, display it full screen on your monitor and step back about 10 feet. Can it be easily read? If not, consider breaking it up into smaller chunks.

If more than one slide is necessary per event/subject/announcement, each slide needs to be able to "stand alone". The "who, what, where, when" should apply for each slide.

Sentences are not necessary - use bullet points instead. The audience may just be clicking through, make the message easy to digest - fast.

Identify the audience. Cable broadcasts are seen by the entire district. Be specific about who the message is for. "All Riverside parents" vs. "All parents"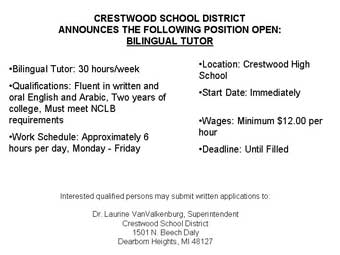 Not the best.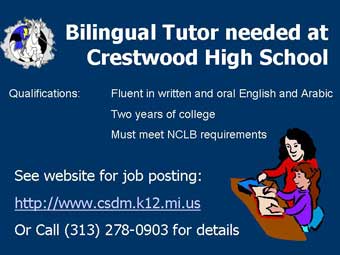 Better.